Learn About the Astonishing Power of Kidney Cleansing & How You Can Benefit From Renaltrex Today!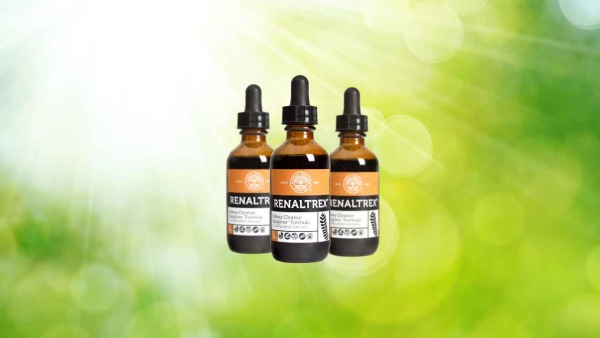 What you'll discover on this page:
Global Healing Center
is trusted by:
Why should you trust us?
We get over 120,000 daily visitors and have served over 2 million customers.
We have over 1,000 affiliates worldwide.
There are over 1,000 doctors worldwide who distribute and promote our products.
What Is Renaltrex?
Renaltrex is an enhanced blend of all-natural, organic herbs that gently flush the kidneys of deposits and accumulated toxins. It's specialized nutrition that supports normal kidney function and defends these critical organs against the effects of an unhealthy diet, occasional stress, and harmful organisms. Renaltrex is made with our Raw Herbal Extract technology for a highly absorbable, liquid formula that's enhanced with Energized Trace Minerals™. Every two-ounce bottle lasts 30 days when used as directed.
Organic Ingredients — Renaltrex is formulated with organic herbs and all-natural ingredients that support kidney and urinary tract health.
Raw Herbal Extract — Renaltrex is made with our Raw Herbal Extract technology which concentrates the ingredients' beneficial compounds.
Boosted Formula — Renaltrex is enhanced with Energized Trace Minerals for increased bioavailability.
The Top 5 Reasons You Need Renaltrex
1. Supports the Kidneys
Renaltrex promotes normal kidney function so they can make hormones, regulate fluid levels, and detoxify your blood.
2. Encourages Detoxification
Urination eliminates toxins. In fact, your kidneys are as important as your liver and colon for clearing waste.
3. Promotes Urinary Health
Renaltrex provides nutrients that encourage normal urine production and flow.
4. Boosts Your Well-Being
Want to stimulate your energy levels and enhance your overall wellness? Cleansing your kidneys can give you a boost.
5. Flushes Deposits
An unhealthy diet or lifestyle can lead to deposits in the kidneys. The herbs in Renaltrex help to dissolve and remove them.
Shocking Statistics About Kidney Health
Kidney stones affect the urinary tract and are a leading reason for emergency room visits.
At least 10 percent of Americans will develop kidney stones at some point in their life.
Annually, more Americans die of kidney disease than breast and prostate cancer combined.
Proactivity is ideal. If the kidneys stop working, dialysis or a transplant is required.
Nearly 100,000 people in the United States are currently waiting for a kidney transplant.
Health Benefits of Cleansing With Renaltrex
Helps the kidneys eliminate toxins
Provides nutritional support for the kidneys
Flushes excess uric acid
Promotes a normal urinary tract
Supports normal fluid balance
Why Renaltrex Is Risk-Free to Try
We are sure you will see and feel the health benefits of Renaltrex.
If you aren't absolutely satisfied...if you aren't feeling better, you're protected by our...
100% No-Risk 180-Day Money-Back Guarantee
If you are not satisfied with your results, just let us know and we'll send you a prompt refund.
Why Is Renaltrex the Best Kidney Supplement?
Raw Herbal Extract technology concentrates the herbs' beneficial constituents.
Made with high-quality, organic ingredients. Gluten- and alcohol-free.
Produced at our state-of-the-art manufacturing facility right here in the U.S.
Our trained, award-winning Customer Satisfaction Team is available for free support.
Your satisfaction is fully assured with our 180-day, money-back guarantee.
What Are the Top 3 Questions People Ask About Renaltrex?
1. Why is kidney cleansing important? Cleansing supports the kidneys and helps them function how they're supposed to. When they're healthy, your kidneys filter toxins and waste from your blood. They're also responsible for releasing important hormones that stimulate red blood cell production, regulate blood pressure, and synthesize vitamin D.
2. What are kidney stones? Kidney stones are masses that form when calcium oxalate crystallizes in the urine. Difficulty urinating, blood in the urine, and discomfort are indications of kidney stones. Staying hydrated and avoiding foods rich in oxalate discourages their formation.
3. When should I perform a kidney cleanse? Signs that it's time for a kidney cleanse include kidney deposits, fluid imbalance, and bladder issues. Other factors include being overweight, chronic fatigue, trouble sleeping, alcohol use, and food or environmental sensitivities.
Additional Tips for Best Results
Follow a healthy diet. Eat kidney-supporting foods like cranberries, cinnamon, and cherries.
Avoid high-oxalate foods. Spinach, rhubarb, and cocoa can encourage stone formation.
Stay hydrated. Drinking plenty of purified water is an easy way to flush toxins from your kidneys.
Exercise regularly. Not only does exercise stimulate detoxification, it boosts your overall health.
Get Started Today & Support Your Kidneys With Renaltrex
Suggested Use
Shake bottle well. Take 1 ml in the morning and again in the evening, or as directed by your healthcare provider.
Warning: Keep out of reach of children. Consult your healthcare provider before taking if you are pregnant or nursing, or have any other medical concerns.
Frequently Asked Questions About Renaltrex
Will I experience a healing crisis?
A healing crisis describes a phenomenon that may arise when you cleanse your body. Cleansing dislodges accumulated toxins that, as they exit your body, may cause you to feel mild fatigue, headache, minor rash, lack of mental clarity, joint or muscle aches, irritability, difficulty sleeping, or mood swings. Some people experience several symptoms, while others experience few or none. These effects are temporary and will subside within a few days.
How will I know when my kidneys are clean?
Gauge your progress by the way you feel and the messages your body sends you. Everyone's results vary depending on diet, exercise, age, stress levels, and other detoxification efforts. Some people find the best results come from a minimum of three cleansing sessions followed by periodic cleanses once or twice per year for maintenance.