Rejuvenate Your Skin Today With Parfait Visage!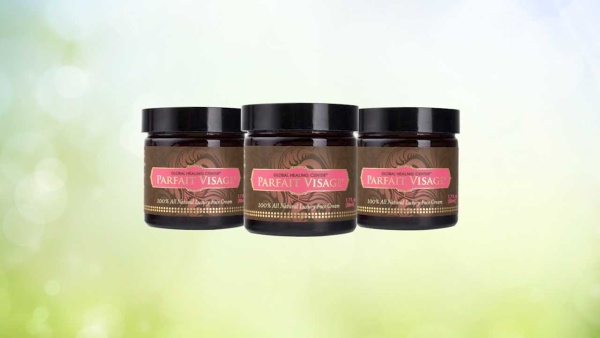 What you'll discover on this page:
Global Healing Center
is trusted by:
Why should you trust us?
We get over 120,000 daily visitors and have served over 2 million customers.
We have over 1,000 affiliates worldwide.
There are over 1,000 doctors worldwide who distribute and promote our products.
What is Parfait Visage?
Parfait Visage is a 100% natural and organic, ultra-premium skin care product! French for "Perfect Face," Parfait Visage combines European technology with the latest anti-aging ingredients to naturally restore skin to a fresh, radiant firmness. Don't age gracefully, experience cellular regeneration and youthful skin!
What are the Top 5 Reasons You Need Parfait Visage?
1. Helps Your Skin Look Better
Parfait Visage is an incredible blend of the highest quality skin care ingredients available anywhere. The regenerative blend is specially formulated to make your skin look its absolute best.
2. Promotes a Clear Complexion
Stop hiding your uneven complexion with foundation and concealer and fix it right at the source. The ingredients in Parfait Visage help even out your skin's appearance.
3. Delivers Amazing Nutrition to Your Skin
Parfait Visage is a revolutionary blend of antioxidants, natural moisturizers, and exotic botanicals that are unmatched, even by the most premier boutiques. The ingredients deliver completely beneficial, toxin-free nutrients directly to your skin.
4. Unparalleled Moisturizing Capabilities
Parfait Visage is handmade in small batches with ingredients of the highest quality. The formula is guaranteed to make your skin softer than any other product!
5. Helps Minimize Wrinkles
"Parfait Visage" is French for "perfect face" because it's designed to help minimize the appearance of wrinkles and give you the perfect face you're after!
What are the Benefits of Parfait Visage?
Penetrates and moisturizes 7 layers deep in the skin.
Enhances new cell growth at 6-8 times the normal rate.
Stimulates new healthy tissue.
Helps remove unsightly cellulite around the thighs.
Pleasant, light scent makes it appropriate for women and men!
What Do People Like Best About Parfait Visage?
"Best facial cream I have ever used! I have large pores especially on my nose and this, with use, makes them basically disappear. My skin is more on the dry side and this gives it just the right amount of moisture that lasts all day and is non-greasy. It is a bit "pricey" but I will still buy it and keep it in the "frig". I use it once or twice a week or more if a special occasion is coming up. I have very sensitive skin and this has NO irritation to me at all. I have had friends tell me my face is beautiful! You will not be disappointed!" † ~Mary
"Wonderful for hydration! This is a very nice creme. It is not heavy or greasy, yet it is incredibly moisturizing. It has a faint, natural smell that I do not find unpleasant. (I don't like perfumey products in general.) I am 34 years old, and I am starting to develop crows' feet and lines on my forehead. I want to nip that in the bud, and I liked the idea of a natural creme that doesn't contain a lot of unnecessary junk."† ~Arielle
"Love, love, LOVE this face cream! I have very sensitive, reactive skin and at age 60 have tried many, many face creams with terrible results! Parfait Visage is wonderful for my sensitive skin, no fragrance and all natural. I also have rosacea and this cream keeps it under control. I also use E3 light creme and aqua spirit, all three keep my skin very clear and hydrated."† ~Laura
Why Parfait Visage is Risk-Free For You To Try
We are sure you will see and feel the health benefits of Parfait Visage.
If you aren't absolutely satisfied...if you aren't feeling better, you're protected by our...
100% No-Risk 180-Day Money Back Guarantee
If you are not satisfied with your results, just let us know and we'll send you a prompt refund.
Why is Parfait Visage the Best Skin Care Product Available?
NO other product will moisturize your skin like Parfait Visage!
Made fresh every month with natural state, cold-pressed oils. NO refined, hydrogenated or bleached oils!
Does NOT contain toxic chemical stabilizers, emulsifiers or preservatives!
Produced with a cold blending process to reduce any possible heat damage!
GMO free, never tested on animals, and made in the USA from globally sourced ingredients!
What are the Top 3 Questions People ask about Parfait Visage?
1. Is Parfait Visage for all skin types? Parfait Visage is formulated to on all skin types: normal, dry, oily, and sensitive, and can be used in conjunction with your regular skin care protocol.
2. How quickly will I see results? Although Parfait Visage begins to work immediately, everyone's skin regenerates at a different rate and you should allow at least 30 days to see outward signs of improvement.
3. I'm not exposed to the sun that much, could it really be affecting me? Overexposure does not necessarily mean sunbathing or sunburn, approximately 70% percent of sun damage takes place during everyday activities such as driving or short walks outside. Ultraviolet-A (UVA) rays are present year round, and the effects of sun exposure are cumulative, happening over years. Sun exposure dries the skin and leads to free radical damage. Signs of age are actually signs of overexposure.
Tips From Our Customers For Getting the Best Results With Parfait Visage
Use Parfait Visage daily.
Use natural oils like avocado oil to remove dirt and makeup; avoid harsh soaps and creams.
Use natural, non-toxic cosmetics.
Use non-toxic sun protection with an SPF of at least 15, especially on your face.
Avoid cigarettes, caffeine, and alcohol.
Exercise regularly to increase circulation to your skin.
Still Not Sure if Parfait Visage Can Help You? Just Read these Reviews...
"My face has a youthful glow to it now!! This stuff works! Just wanted to let you know that I have been using the Parfait Visage for about 3 weeks and I have really noticed a difference. I can't quite explain it but I believe it has evened out my skin tone and has given me a younger appearance. My face has a youthful glow to it now!! This stuff works!" † ~Donna L., La Porte, TX
"Nowhere I found a cream made of such quality ingredients. The Parfait Visage cream is the only cream I have been able to use as a moisturizer. It also helps the rashes on my skin. It is such a good cream that it is my third cream I buy. Nowhere I found a cream made of such quality ingredients. Thank you very much." † ~Christine
"Wow... This is the second jar of Parfait Visage that i have purchased. I cannot rant enough about how good this cream is not only is it important to make sure that we do not saturate our bodies with chemicals, this provides the chance to have an AMAZING lotion, that actually works.....did I mention I have extremely sensitive skin? I even got a bottle for my father ( who is not into skin care, yet loves how silky his skin feels after he puts this cream on)." † ~Stephanie
Get Started Today and Boost Your Skin's Appearance With Parfait Visage!