Description

+
Learn How You Can Benefit Today From O2-Zap!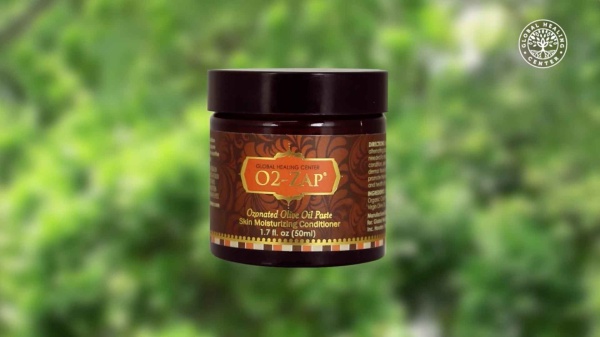 What you'll discover on this page:
Global Healing Center
is trusted by:
Why should you trust us?
We get over 120,000 daily visitors and have served over 2 million customers.
We have over 1,000 affiliates worldwide.
There are over 1,000 doctors worldwide who distribute and promote our products.
What is O2-Zap?
O2-ZAP is certified organic, ozonated olive oil. It's produced by bubbling ozone through organic, cold-pressed olive oil. This process takes 3 to 6 months and causes the olive oil to change into an off-white paste that can be applied to the skin to provide beneficial oxygen.
Use O2-Zap for...
Candida
Cuts
Swollen gums
Swollen veins
Insect bites
Bruises
Chapped lips
Diaper rash
Athlete's foot
The Top 5 Reasons You Need O2-Zap
O2-Zap is an exclusive formulation that provides pure oxygen to refresh your skin!
Helps heal skin wounds.
Soothes uncomfortable insect bites.
Provides relief from harmful organisms.
Used orally, encourages healthy gums.
What Are the Benefits of O2-Zap?
O2-Zap offers the highest saturation of ozone and oxygen ever developed!
Certified organic.
Neutralizes harmful organisms.
Completely safe and non-toxic.
Environmentally friendly.
We Asked Our Customers What They Liked About O2-Zap...
"Awesome Product! I had major burns and blisters all over my body. I applied the O2-Zap and it was like a miracle aid!! I'm not one for reviews but I had to let it be known that this salve is the real deal." † ~ Mia
"This is a miracle ointment! I put the ointment on 3x a day and my problems seemed to dry it up and fade away." † ~ Laurie
"Works for me! I have been using it as a facial for the last 2 weeks and I definitely see a difference! This, in combination with rosewater and glycerin, is making the lines around my eyes less noticeable! Love it!" † ~ DW
Why O2-Zap Is Risk-Free To Try
We are sure you will see and feel the health benefits of O2-Zap.
If you aren't absolutely satisfied...if you aren't feeling better, you're protected by our...
100% No-Risk 180-Day Money Back Guarantee
If you are not satisfied with your results, just let us know and we'll send you a prompt refund.
Why Is O2-Zap the Best Ozonated Olive Oil Available?
Only O2-Zap is saturated with ozone until it becomes a paste, it is not a low-quality, liquid variety!
Made in the USA from globally sourced ingredients.
Certified organic.
Stored frozen to preserve potency.
Does NOT contain lower quality oils like canola, soy, or cottonseed.
Simple, safe and pure -- no hidden ingredients.
Glass packaging is free of BPA and other toxins!
What Are the Top 3 Questions People Ask About O2-Zap?
1. Where can I use O2-Zap? Use O2-Zap on any affected area; avoid contact with eyes.
2. Why is the benefit of O2-Zap? O2-Zap releases oxygen to the skin, a process that can last for 12 hours or more!
3. What does O2-Zap smell like? O2-Zap is concentrated oxygen and ozone and has been described as having a strong ozone characteristic.
Tips for Best Results
Apply up to three times daily to supply your skin with ozone.
Works great as a moisturizing facial mask!
Safe for pets.
Stored in the refrigerator, it may remain effective up to ten years.
During the summer months, we recommend upgrading to next day or second day shipping. If you receive O2-Zap in a liquid form due to heat, place in the refrigerator and it will return to a solid paste consistency.
Still Not Sure O2-Zap Can Help You? Read These Reviews...
"Awesome! Had I not seen this for myself, I don't think I would have believed it. I hate to sound so cliche, but it was like a miracle." † ~ Naya
"Useful as a deodorant... I am not a fan of antiperspirant from the drug store and I'm definitely not into the musky smelling deodorants that are out there. I just put some O2-Zap under my arms in the morning and I'm good to go. Doesn't stop me from sweating but it does stop me from stinking." † ~ A.W.
"Great for my gums! Dentist told me I had the gums of a 60-year-old (I'm 31). I started swishing with O2-Zap after brushing my teeth and my gums are getting more healthy. This stuff is now part of my dental regimen. Thanks!" † ~ Ben
Get Started Today & Discover How O2-Zap Can Boost Your Health and Wellness... Or Your Money Back!!
Ingredients

+
Instructions

+
Suggested Use
Use on alternating days or as needed to moisturize, condition, and reoxygenate dermal tissue and to promote the natural beauty and health of your skin.
Research

+
FAQs

+
Frequently Asked Questions About O2-Zap
How is O2-Zap made?
O2-Zap is produced by bubbling ozone through olive oil. This procedure usually takes 3 to 6 months of 24-hour a day bubbling. During this time, the olive oil becomes an off-white paste.
What is the shelf life of O2-Zap?
O2-Zap does not have an expiration date. Some reports suggest ozonated olive oil can remain stable up to 17 years. For long-term storage, O2-Zap should be stored in your refrigerator or freezer. Dr. Hansler tested a sample of ozonated olive oil after it had been refrigerated for 10 years and found it to be 98% as effective as a fresh batch.
Why does O2-Zap contain 1.5% ozone if it's made with pure ozone?
O2-Zap contains the highest saturation of ozone and oxygen ever developed. Ozone is unstable and virtually impossible to stabilize. Achieving a stable 1.5% ozone in O2-Zap is a breakthrough. The O2/O3 saturation level is 500% or more during the bonding process. Our system produces the best bonding action of O2/O3 to olive oil WITHOUT affecting the beneficial qualities of the olive oil.
Does O2-Zap require refrigeration?
For best results, refrigeration is recommended. However, it can be stored at room temperature away from direct sunlight or heat.
Reviews

+