Energize and Reclaim Your Health Today With Detoxadine!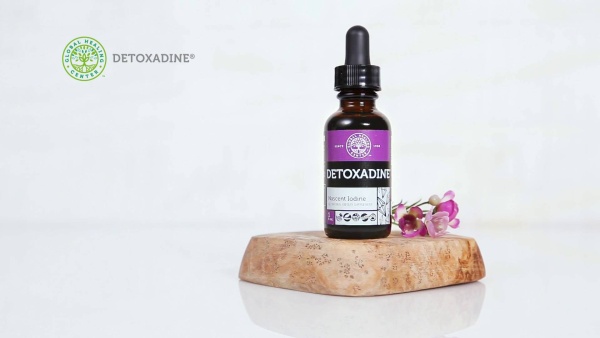 What you'll discover on this page:
Global Healing Center
is trusted by:
Why should you trust us?
We get over 120,000 daily visitors and have served over 2 million customers.
We have over 1,000 affiliates worldwide.
There are over 1,000 doctors worldwide who distribute and promote our products.
What is Detoxadine?
Detoxadine is Global Healing Center's certified organic, standardized nano-colloidal nascent iodine. It is produced with a transformative bio-elemental matrix and, with a glycerin base, is designed to be more gentle on your digestive system than iodine supplements that contain alcohol.
Detoxadine is created from 300 million-year-old salt deposits located more than 7,000 feet below the earth's surface. It is an extremely pure nascent iodine that is both concentrated and free of additives and toxins. Each drop is loaded with 650 micrograms iodine and it's screened for radiation.
The Top 5 Reasons You Need Nascent Iodine
1. Nascent Iodine is the Best Form of Supplemental Iodine
Compared to any and all other iodine supplements, Global Healing Center's nascent iodine is the most easily absorbed and utilized form of iodine available. Read the reviews and compare for yourself, no other product can match!
2. Nutritionally Supports the Thyroid
Each drop of Detoxadine contains 650 micrograms of iodine to promote the normal iodine levels necessary to support the thyroid and encourage normal hormone balance.
3. Promotes Detoxification
Fluoride, chlorine, and bromine compete with iodine for the same thyroid receptors. Having enough iodine available helps defend and detoxify the thyroid against these toxic halogens.
4. Unmatched Quality
Unlike other iodine supplements which source iodine from the ocean, Detoxadine is created using 300 million-year-old salt deposits located 7,000 feet below the earth's surface. The result is an extremely pure and concentrated nascent iodine that is free of additives and toxins and also screened for radiation.
5. Potent But Gentle Formula
Detoxadine is nascent iodine in a vegetable glycerin base. Unlike alcohol based formulas, it has an extremely gentle taste and is appropriate for adults and children alike.
Shocking Statistics About Iodine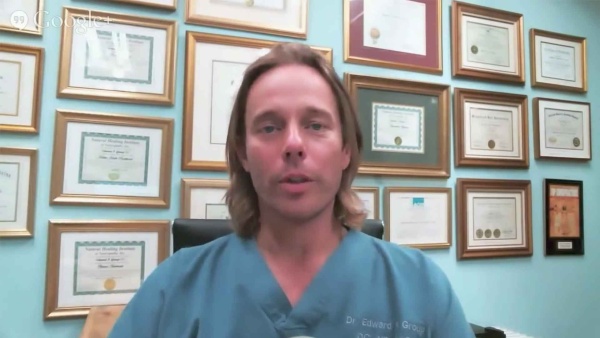 Everything You Need to Know About Iodine
Video Length:
1 hour
According to the World Health Organization, iodine deficiency is a public health problem in 54 countries.
The CDC reports that iodine deficiency is one of the four major deficiency diseases in the world.
The 2013 USGS iodine commodity summary warns that there is no substitute for iodine.
According to UNICEF, iodine deficiency is the most avoidable cause of stunted physical and mental development.
What are the Health Benefits of Nascent Iodine?
Supports thyroid health.
Promotes balanced iodine levels in adults and children.
Encourages focus and a sharp mental state.
Supports breast milk production and quality.
Provides immune system support and defense against environmental toxins!
Detoxifies mercury, lead, and toxic halogens like bromide, fluoride, and chlorine.
Supports a healthy metabolism
What Are People Saying About Detoxadine?
Most helpful positive review...
"The Most Advanced Iodine Supplement! Detoxadine is a high-quality daily nascent iodine supplement that will supply you with your recommended daily allowance! It's gentle on your stomach and won't sting or burn!"
† ~ Dolby Dubrow
Most helpful negative review...
"I was hoping... I realize that it was a long shot, to see if it might help my condition, but unfortunately, it didn't. I tried taking it continually, and then stopped....absolutely no difference."
† ~ Skier
Why Detoxadine is Risk-Free For You To Try
We are sure you will see and feel the benefits of this nascent iodine.
If you aren't absolutely satisfied...if you aren't feeling better, you're protected by our...
100% No-Risk 180-Day Money Back Guarantee
If you are not satisfied with your results, just let us know and we'll send you a prompt refund. No questions asked.
Why is Detoxadine the Best Nascent Iodine Available?
3 drops = 1300% of RDA and one bottle will last the average person 3 months.
Ultra pure nascent iodine is easily absorbable for optimal tissue saturation.
Contains certified-USP grade iodine from an all-natural, deep earth source.
Has a glycerin base with a mild, sweet taste, won't burn like alcohol!
Never subjected to direct heat, harsh chemicals, or alcohol.
Vegan-friendly, non-radioactive, and completely non-toxic!
Certified organic
What are the Top 3 Questions People Ask About Detoxadine?
1. Can I take Detoxadine while pregnant? Good nutrition is important, especially during pregnancy. Not only is an expectant mother providing for herself, but her developing baby as well. Many pregnant and planning-to-become-pregnant women use Detoxadine to support their health.
2. Why is Detoxadine better than potassium iodide? The nascent iodine in Detoxadine is pure and much easier for your body to absorb and use. In nature, iodine is attached to other elements as a compound, it doesn't exist pure. In these forms, absorption can be as low as 20%, making it biologically inefficient. Detoxadine is different because it provides a bioavailable, non-toxic nascent iodine that rapidly enters your bloodstream and disperses throughout your body.
3. How does nascent iodine affect my thyroid? The thyroid converts iodine back to mono-elemental iodine and immediately recombines it as an essential mineral element with protein configurations to form the thyroid hormones T3 and T4. Simply put, nascent iodine supports the thyroid and hormone function!
A Brief History of the Invention of Detoxadine
Dr. Edward F. Group III, DC, NP
Detoxadine is manufactured in a state-licensed facility that meets federal regulatory standards, is cGMP/HACCP-compliant, and lab grade. Raw elemental iodine is a controlled substance both at a State and Federal level. The licensing, approvals and regulatory documentary procedures are exacting and costly.
The production process of Detoxadine has a stabilizing effect on the elemental iodine, making it far more bioavailable than other "nascent iodine" products which can exhibit toxic effects (e.g. Cytotoxicity).
Bound forms of iodine must first be separated, clarified and purified from other binding components or impurities into a USP-grade (US Pharmaceutical), mono-elemental iodine as certified USP resublimated iodine crystals. In this purified crystal form, iodine is a highly reactive and toxic substance. However, when the purified USP iodine crystals are subjected to a proprietary process it becomes nano-colloidalized and transforms into a non-toxic form of elemental nascent iodine, also referred to as monoatomic iodine, without the addition of iodides!
Supplement Your Iodine Requirements Today With Detoxadine!!
Frequently Asked Questions About Detoxadine
Don't see your question? Contact us!
How is Detoxadine produced?
Historically, nascent iodine has been made using electricity to break iodine's diatomic bond and create a single, highly energized atom. However, it is difficult to use this method on the scale necessary to produce sufficient quantities. It also does not leverage the latest technological advances. 
Global Healing Center has developed proprietary technology to create nascent iodine by using Thermodynamic Pressure Sensitive High Energy Sound Pulse Nano-Emulsion Technology. This technology is the result of years of research and collaboration between top Russian Physicists, the Global Healing Center production staff, and Dr. Edward Group. The end result is a highly-charged, bio-available, stable form of nascent iodine.
What is the source of the iodine?
Global Healing Center is the only company that doesn't source iodine from the sea. Our USA-based production facility derives the iodine from a salt solution that is extracted from a geologic formation approximately 6,000-7,000 feet below the surface of the earth. This salt solution is 300 million years old and contains high concentrations of "iodide" that is extracted. The iodide solution undergoes a series of purification steps to convert it to iodine and separate the non-volatiles and other halogens.
I don't have a thyroid gland, do I still need iodine?
If you do not have a thyroid, then iodine is not necessary to create thyroid hormones. However, that doesn't mean the rest of your body doesn't need iodine -- it does.
Iodine is necessary for breast and prostate health (the second largest iodine storage sites after the thyroid).  It is also used by the adrenal glands, parotid glands, mucosal lining of the intestines, uterus, ovaries and more.  It is a necessary nutrient for maintaining healthy cell life cycles.
The P53 gene requires iodine to function.  P53 has been called "The Guardian of the Genetic Code"  and is responsible for the apoptosis process of damaged cells. Thyroid or not, there is no question that iodine is required by the human body to function properly.
Is Detoxadine safe for individuals who have allergies to iodine?
If it is the iodine content of kelp that the individual is sensitive to, then all iodines should be used with great caution.
If it is the polysaccharide matrix in which the iodine is bound that the individual is sensitive to, then the iodine in Detoxadine "MIGHT" not be a problem.
In either case, deferring to a natural physician is absolutely required.
Should people with Hashimoto's Thyroiditis or Graves take Detoxadine?
People with Hashimoto's Thyroiditis or Graves should consult their physician before taking any nutritional supplements.
Should I discontinue any prescriptions once I start taking Detoxadine?
No, you should not discontinue any medication without consulting your prescribing healthcare professional. It is also recommended you separate medications at least 4 hours from Detoxadine administration.
How many milligrams of nascent iodine are in one serving of Detoxadine?
There are 1,950 micrograms or 1.950 milligrams of nascent iodine per serving of Detoxadine.
What is the shelf life of Detoxadine?
The shelf life of Detoxadine is about 3 years.
How much iodine is too much iodine?
Acute iodine toxicity is rare and usually only occurs when many grams have been ingested. Symptoms may include burning of the mouth, throat, and stomach, vomiting, increased heart rate, nausea, intermittent ringing in the ears, diarrhea, weak pulse, shakiness, feelings of panic, or a profound disruption of sleep patterns.
Is Detoxadine an 'iodide,' like potassium iodide?
No, Detoxadine contains pure iodine in glycerine solution. It is not an iodate or an iodide bonded to another element, like potassium iodide (although when iodine ion occurs alone, it is called an iodide). When iodine is bonded to another molecule, it is harder for the body to use. Detoxadine is a special non-toxic transformed mono-element nascent iodine product. In other words, the only mineral Detoxadine contains is iodine! This means easier uptake and utilization.
Can I give Detoxadine to my pet?
Pets can take 1 drop per day for every 25 pounds they weigh. Detoxadine can be administered directly in the mouth or added to food.