Experience the Benefits of Probiotics with Latero-Flora!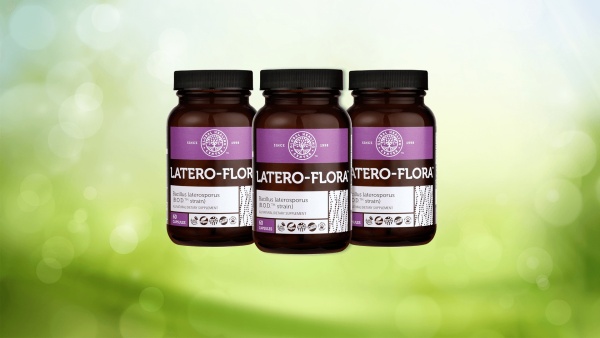 What you'll discover on this page:
Global Healing Center
is trusted by:
Why should you trust us?
We get over 120,000 daily visitors and have served over 2 million customers.
We have over 1,000 affiliates worldwide.
There are over 1,000 doctors worldwide who distribute and promote our products.
What is Latero-Flora?
Latero-Flora is a unique strain of Bacillus laterosporus (B.O.D.™ strain), a naturally occurring bacteria which populates the intestines with beneficial organisms that support digestion and promote a healthy colon. Available primarily through health professionals, Bacillus laterosporus was introduced commercially in 1989 and has grown in popularity with doctors, and healthcare professionals who use it and recommend it to their patients.
The Top 5 Reasons You Need Latero-Flora
1. Promotes Intestinal Balance
Your gut is the home to many microorganisms, some are helpful, some are harmful. Latero-Flora encourages a normal balance of friendly colonies that support good health and systemic function.
2. Supports Digestion
Intestinal flora help you digest food. If you don't have good probiotic colonies in your gut, you're not going to get the most nutrition out of your food. Latero-Flora supports optimum digestion and nutrient absorption.
3. Immune System Support
The majority of your immune system is in your gut, and healthy probiotic colonies defend against invading organisms.
4. Promotes Regularity
Latero-Flora is not a laxative but, by encouraging your digestion to be normal and without obstruction, does promote regularity in a gentle and natural way.
5. Unbeatable Quality
Latero-Flora contains Bacillus laterosporus, a probiotic primarily available through health professionals; it's an advanced, premium probiotic. If you demand quality and want results, there's no substitute for Latero-Flora.
Shocking Statistics about Probiotics
The United Nations' Food and Agriculture Organization advises that probiotics offer a beneficial health effect.
The Wageningen Center for Food Sciences estimates over 1000 species of bacteria reside within humans.
A French study found that probiotics support brain function and may improve focus and problem solving abilities.
The Department of Nutritional Sciences at the University of Toronto found that probiotics help emotional status.
According to Switzerland's Centre Hospitalier Universitaire Vaudois, intestinal flora stimulate the immune system.
What are the Benefits of Latero-Flora?
Promotes healthy intestinal flora!
Safely helps the body maintain beneficial colonies of microorganisms.
Supports the digestive system.
Latero-Flora helps balanced yeast levels and vaginal flora.
Performs supportive roles within the body to maintain energy and immune function.
We Asked Our Customers What They Liked About Latero-Flora
"Simply Works. I used Latero-Flora with great results." † ~ T.M.
"My indications are improving gradually and strongly. Just to let you know: I am VERY HAPPY with Latero-Flora; I've had IBS for 15 years, and Latero-Flora is the first product that has helped me (and I've tried absolutely everything!)." † ~ S.O.
"Brought me so much relief! THANK YOU!!! the Latero-Flora has brought me so much relief, the first week was rough and now I take the 1 a day and the fatigue/mind fog is SO much better!! this is a wonder supplement, am giving it to my son and going to try it on the husband!!!" † ~ Kendra
Why Latero-Flora is Risk-Free For You To Try
We are sure you will see and feel the health benefiting results of Latero-Flora.
If you aren't absolutely satisfied...if you aren't feeling better, you're protected by our...
100% No-Risk 180-Day Money Back Guarantee
If you are not satisfied with your results, just let us know and we'll send you a prompt refund.
Why 94% of Customers Recommend Latero-Flora as a Probiotic
Primarily available through trusted health professionals!
Promotes healthy intestinal flora to support digestion and whole body well-being.
Attacks harmful organisms by puncturing cell membranes.
Free of dairy, gluten, and animal material.
Supports normal immune system function.
Received the esteem and praise of notable experts:
"Latero-Flora has shown significant effectiveness in improving and, in many cases, eliminating gastrointestinal indications and food sensitivities while enhancing the patient's digestive capacities....I am convinced that Latero-Flora will play a very important role in fighting the scourge of this century - the suppression of our immune system."
- Gregory O.M.D. in "A Holistic Protocol for The Immune System"
"Latero-Flora can help maintain a healthy colon and will help populate the intestines with beneficial bacteria, thus enhancing the immune system, and in general help in the digestion and absorption of nutrients."
- Dr. Luc De Schepper's report in the Townsend Letter for Doctors
What are the Top 3 Questions People Ask About Latero-Flora?
1. What is Bacillus laterosporus BOD? Bacillus laterosporus BOD is a soil based organism. It has a strong inhibitory effect on a number of pathogens including candida, and many harmful pathogens. It was discovered in a pristine area of Iceland in the late 1980's where it was used to support the health of local vegetables and of the residents who consumed them. It is a transient organism in the human digestive tract that enjoys a complex symbiotic relationship with the resident bacteria of the digestive tract to promote the well-being of your entire body.
2. Is Latero-Flora safe? Bacillus laterosporus was safety tested by Applied Biological Sciences Laboratory in 1986. Tests showed no oral toxicity with bacillus laterosporus BOD at servings of 5 grams per kilogram bodyweight, which is equivalent to 2000 Latero-Flora capsules/day for a 170lb person. It was concluded that the Bacillus is not harmful to humans.
3. Can children take Latero-Flora? Children can take Latero-Flora, we suggest children take ½ the suggested adult serving.
Additional Tips for Best Results
Take Latero-Flora while taking antibiotics to balance friendly flora in your digestive tract.
Take with an enzyme supplement and an oxygen colon cleanser to promote systemic function and toxin removal.
Still Not Sure if Probiotics Can Help You? Just Read these Reviews...
"Great Product!!!! I am on my 3rd bottle and I am very impressed. I started at a high serving of 5 capsules in the morning, sometimes I took it in the evening as well. My vaginal yeast is cleared and oral thrush is 98% gone. I have greatly reduced sugar, white flour and processed foods, but I do have bad days sometimes, where a can not pass on a slice of cheesecake. but so far so good. I love the product." † ~ Mimi
"Will definitely recommend your product. Unless it was my imagination Latero-Flora appeared to work from day one (I took more pills than bottle directed) and I began to feel more confidently immediately! I will be a life-long customer and will definitely recommend your product to others who suffer terrible embarrassment and humiliation from bad breath." † ~ Mason B.
"I am so grateful to have found Latero-Flora! I am so grateful to have found Latero-Flora! I've been dealing with candida for many years, part of that being herpes sores in the mouth area and feeling it throughout the respiratory and digestive area as well. It had gotten to the point a few months ago, through a particularly stressful time in my life, where it turned to thrush mouth that was not going away. Swollen and very painful throughout the mouth and throat area. The Latero-Flora helped immediately to ease the situation, and has also helped ease constipation. Sincerely, the Latero-Flora is a Godsend! I'll be continuing with it for a long time. Thanks so much!" † ~ M.R.
Boost Your Health and Wellness Today With Latero-Flora!
Suggested Use
Adults: Every morning, 20 minutes before eating, take two capsules with water. After one month, reduce usage to 2 to 3 times weekly.
Children (ages 3-12): One capsule as described above. If you wish, capsules may be opened and contents mixed in purified water or mashed fruit.
Warning
Keep out of reach of children. Consult your healthcare provider if pregnant, nursing, or for any additional concerns.
Frequently Asked Questions About Latero-Flora
What are transient microorganisms?
Transient microorganisms include food-borne microorganisms and soil-borne microorganisms. They enter the human digestive tract and may influence human health. Transient microorganisms differ from resident microorganisms in that they do not permanently reside in the gastrointestinal tract. Instead, they briefly establish small colonies before dying and being flushed from the intestinal system. However, their temporary residence affects the function and condition of the digestive system.
Some of the most important resident microorganisms involved in digestion and intestinal health depend on byproducts produced by the visiting transients. In many cases, these very different microorganisms enjoy a symbiotic relationship that dramatically influences health and well-being.
How can Latero-Flora help fight yeast?
When using Latero-Flora to encourage a normal yeast balance...
Do not eat refined sugar or fermented foods, including yogurt and cheese.
Eat 1 clove of garlic every day.
Take a probiotic supplement.
Take an enzyme formula with each meal. Enzymes help to digest food and leave less for the yeast to thrive on.
Practice food combining to help your food move quickly through your system without any chance of fermentation.
Take a colon cleanser before bedtime to help flush dead yeast from your body.
It may take months to get yeast under control. Continue the diet and probiotic supplementation.
How many bacteria are in each serving of Latero-Flora?
There are 1 million spore-bearing bacteria in each serving (2 capsules) of Latero-Flora.