Description

+
Learn About The Astonishing Power of Kidney Cleansing and How You Can Benefit From a Kidney Cleanse Today!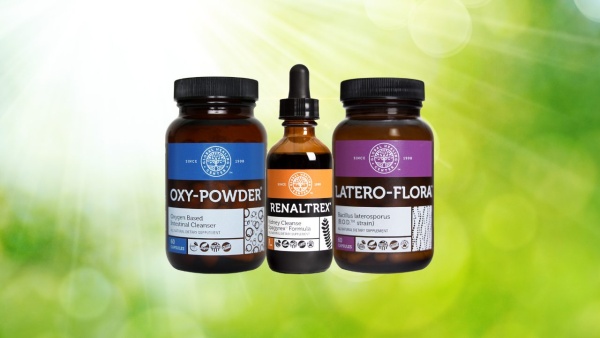 What you'll discover on this page:
Global Healing Center
is trusted by:
Why should you trust us?
We get over 120,000 daily visitors and have served over 2 million customers.
We have over 1,000 affiliates worldwide.
There are over 1,000 doctors worldwide who distribute and promote our products.
What is a Kidney Cleanse?
The Kidney Cleanse Kit is designed to detoxify, flush and purge the kidneys of built up toxins. Toxins accumulate and stones form when the kidneys aren't functioning at normal efficiency. A kidney cleanse involves eating a healthy organic diet and drinking an organic, herbal kidney cleanse mixture for 4 days to stimulate the kidneys and soften any deposits. The kidney cleanse protocol also includes an intestinal cleanse with Oxy-Powder and a probiotic supplement, Latero-Flora, that work in tandem to encourage a balanced internal environment.
The Top 5 Reasons You Need a Kidney Cleanse
1. Supports Whole Body Detoxification
Each system in your body requires special attention. Just as the importance of liver cleansing is well known, kidney cleansing is mandatory for enhancing total body cleansing.
2. Promotes Normal Kidney Function
The primary responsibilities of the kidneys are to filter impurities from your body. If they're not performing at normal efficiency, a buildup of toxins may result..
3. Detoxifies the Kidneys and Intestines
Your body's waste management system has multiple departments. Renaltrex is effective at flushing impurities from the kidneys, Oxy-Powder facilitates detoxification of the intestines and colon. After the waste is removed, Latero-Flora encourages healthy intestinal flora.
4. Boosts Your Well Being
When you're functioning normally on the inside, you feel great on the outside. Internal cleansing is one of the most effective measures for boosting your energy levels and making you feel better.
5. Powerful Combination of the Highest Quality Supplements Available
When you evaluate its safety, efficacy, positive feedback, and clinical study results -- NO other colon cleanser can touch Oxy-Powder. Renaltrex is the only Spagyric blend of herbs known to support kidney health. And the probiotic quality and benefits of Latero-Flora are absolutely unparalleled. You can purchase other products, you CANNOT purchase other products that are as effective or high quality. Do the research. Nothing promotes kidney, bladder, urinary tract, and colon health as well as the Kidney Cleanse Kit.
Shocking Statistics About Kidney Health
One of the most common reasons for emergency room visits, kidney stones are a common urinary tract disorder.
10% of Americans can expect to develop kidney stones.
1 in 3 Americans are at risk of developing kidney disease, according to the National Kidney Foundation.
Diabetes and high blood pressure are the two primary causes of kidney disease.
Kidney disease kills more Americans annually than breast and prostate cancer combined.
Dialysis or a transplant are the only options for nonfunctioning kidneys.
100,000 people in the United States are waiting for a kidney transplant.
Thousands die every year waiting for a kidney transplant.
Medicare spent $29 billion in 2009 treating kidney failure!
Health Benefits of a Kidney Cleanse
Nutritional support helps the kidneys break down and eliminate toxins.
Flushes excess uric acid, cleans the urinary tract.
Promotes regular fluid balance to release water retention.
Oxy-Powder uses the gentle power of oxygen to flush the intestines and colon.
Latero-Flora encourages the healthy intestinal flora that enhance digestion.
Increases energy and vitality to encourage overall health.
What's Included With the Kidney Cleanse Kit?
Dietary supplement that promotes normal kidney function.
Helps to purify and detoxify the kidneys.
Tightens and tones the urinary tract.
Support for overall health and well being.
Releases monatomic oxygen into the intestinal tract and body to melt away compaction.
Safe, effective, non-toxic, and non-allergenic.
Promotes normal colon health and regular bowel activity.
Clinically proven.
Recommended by doctors and therapists worldwide
Promotes a positive internal environment.
Digestive system support.
Encourages normal immune function.
Recommended by doctors and healthcare professionals.
Dr. Edward F. Group III has compiled more than twenty years of research and results into his latest groundbreaking book. He reveals what he has learned throughout his years of counseling people with serious health conditions. It's information that everyone should possess to help them make healthier choices.
Dr. Group explains the many sources of toxins in your diet, home and workplace, and how they may cause sickness and disease! He further reveals the secrets of how you can vastly improve your health by cleaning the air, water and food we consume on a daily basis.
The Green Body Cleanse provides you with remarkable information not revealed by conventional medicine, for having a healthier body, living a healthier, greener lifestyle.
Please note this is optional and available as an add on
Supports a healthy immune system.
Acts as a prebiotic for intestinal flora.
Incredible source of powerful antioxidants and vital nutrients.
Soothes the entire body, from the digestive tract to sore joints and muscles.
Excellent nutritional support for the liver.
Why the Kidney Cleanse is Risk-Free To Try
We are sure you will see and feel the health benefiting results of this kidney cleanse
If you aren't absolutely satisfied...if you aren't feeling better, you're protected by our...
100% No-Risk 180-Day Money Back Guarantee
If you are not satisfied with your results, just let us know and we'll send you a prompt refund.
Why is this the Best Kidney Cleanse Kit?
Completely natural ingredients. No harsh synthetics, alcohol or GMO's.
Spagyrex® formulated with herbs traditionally used to promote kidney, bladder and urinary tract health.
Vegan safe and never tested on animals.
Made in the USA from globally sourced ingredients using eco-friendly sustainable manufacturing.
Our well trained customer service team is available to answer questions.
Includes a no-questions-asked, money back guarantee.
Learn about the Top 3 Questions People ask about Kidney Cleansing
1. What can I expect? A kidney cleanse may flush deposits and toxins from your kidneys, bladder, and urinary tract. Because the Kidney Cleanse Kit includes Oxy-Powder, you can also expect to purge other toxic material trapped in the kidneys and intestines so they may also exit your body.
2. Is the kidney cleanse safe? The Kidney Cleanse Kit is very safe and should not cause harm. Everyone is different, however, and some persons have reported experiencing a healing crisis. This is normal! Fatigue or headache are temporary and indicative of toxin movement.
3. How long will it take to cleanse my kidneys? This depends on your current status. Many people have never cleansed their kidneys and have an accumulation of toxins. One cleanse may not be enough and performing three kidney cleanses a year is recommended. The best results are reported by people who have performed three cleanses in a row with a 5 day break between each.
Additional Tips From Other Customers
Add foods to your diet, like cranberries, cinnamon, olive oil, and cherries, that promote kidney function.
Consuming watermelon can help dissolve kidney stones; watermelon fasts help cleanse the kidneys.
Stiff lower back means stones are dissolving and crystals are moving through the ureters and urinary tract.
Drink purified water to flush waste and encourage circulation.
Strong smelling or dark colored urine is indicative of toxin release and should pass within days.
Urinate whenever you have the urge. Retaining urine in the bladder can encourage the formation of stones.
Avoid common table salt, replace it with Himalayan Crystal Salt.
Take a warm bath or take a sauna bath to release toxins.
Avoid alcohol, iced drinks, pickles, dairy, chili peppers, and sour, heavy and dry food.
Avoid animal products, non-essential medications, carbonated beverages, artificial sweeteners.
Rhubarb, chocolate, and caffeine increase calcium oxalate levels and encourage stone formation.
Avoid sitting for long periods of time after eating. Get fresh air, sunlight, and exercise during your cleanse.
Castor oil packs can help with detoxification.
Get Started Today & Discover How
Kidney Cleansing Can Boost Your Health and Wellness!
Ingredients

+
The Kidney Cleanse Kit Includes
Instructions

+
Items You Will Need Before Starting Your Kidney Cleanse
2 gallons of distilled water (1 gallon for the Renaltrex Kidney Cleanse Drink, and 1 gallon for the Water / Lemon / ACV Drink)
2 ounces (1 full bottle) of Renaltrex
1 bottle of Oxy-Powder and 1 bottle of Latero-Flora
1 bottle (8 ounces) of Organic Raw Apple Cider Vinegar (Braggs, available in most health food stores)
Organic kidney cleansing fruit for breakfast each morning, such as apples, cranberries, grapes, oranges, papaya, watermelon, strawberries, blueberries and raspberries
Raw seeds or nuts such as sunflower, walnuts, Brazil nuts, or almonds for snacks
Either 8 oz. organic walnuts or 3 organic avocados for snack options (whichever you prefer)
NOTE: You should be able to perform this kidney cleanse while still working or carrying on your normal daily activities. The Oxy-Powder can cause watery stools, so make sure a bathroom is nearby. If your stools are liquid, remember this is not diarrhea but the byproduct of turning the solid compacted fecal matter in the intestinal tract into a liquid or gas.
NOTE: Avoid drinking milk, alcohol, bottled juices, energy drinks soft drinks or diet drinks during this cleanse. These liquids will decrease the effectiveness of the kidney cleanse, and add more toxins to your body. For optimal results drink only distilled water with apple cider vinegar added in addition to your Renaltrex Kidney Cleanse Drink throughout the day.
4 Day Kidney Cleanse Instructions
NOTE: It is best to follow the schedule listed below. However, you may modify it to fit your daily routine. Don't eat 30 minutes before or after drinking the Kidney Cleanse Drink.
Preparation (Day 1 Only)
7:30am: Make your Kidney Cleanse Drink and the Water/Lemon/ACV Drink when you wake up (try to go to bed early, before 9pm if possible, to get a good night's rest.

How to Make the Kidney Cleanse Drink Start with 1 gallon of distilled water. Pour out 5 ounces of water to make room for the ingredients you will add. Add two ounces (the whole bottle) of RenalTrex, 2 tablespoons of Organic Raw Apple Cider Vinegar (ACV), and the juice of one organic lemon. Shake and refrigerate - You will drink this gallon over the next 4 days. If you need to work or run errands during the day, bring it with you in a small cooler.
How To Make Your Water / Lemon / ACV Drink Take a second gallon of distilled water and pour out 6 ounces. Add 1 ounce of Organic Raw Apple Cider Vinegar to the water. Then add 4 ounces of fresh squeezed organic lemon juice. You will drink this for snacks, during meals and between meals when thirsty. Drink as much as you like throughout the day. The more you drink the more successful your kidney cleanse will be. When you finish this mix, make another gallon and continue to drink as needed.
Daily Protocol (Days 1-4)
8:00am: Eat breakfast, choose one of the following kidney-cleansing fruits and eat as much as you like. These include apples, cranberries, grapes, oranges, papaya, watermelon, strawberries, blueberries and raspberries. For best results all fruit should be organic. If fresh fruit is not available, use frozen or dried.
9:00am: Drink one 8-ounce glass of the Kidney Cleanse Drink.
10:00-11:00am: Water / Snack (optional) - Drink 12 ounces of your Water/lemon/ACV Drink (This is your second gallon of distilled water, lemon juice, ACV). If you prefer a small snack it should consist of organic raw seeds such as sunflower, chia, hemp or pumpkin. Also, raw nuts such as walnuts, Brazil nuts, or almonds will work. Its best to avoid the snack if possible and just drink the Water/lemon/ACV Drink. Remember you are cleansing!
12:00pm: Drink one 8-ounce glass of the Kidney Cleanse Drink.
1:00pm: For lunch eat fresh organic vegetables, make homemade vegetable soup, or eat a salad. Use or combine the following kidney cleansing vegetables: asparagus, beets, cabbage (green, purple or both), celery, turmeric, ginger and parsley. Drink only the Water/lemon/ACV Drink with your lunch meal. Make your lunch in the morning and bring it with you to work or if you eat out, eat a salad.
3:00pm: Drink one 8-ounce glass of the Kidney Cleanse Drink.
4:00-5:00pm: Drink 12 ounces of the Water/lemon/ACV Drink. Optional: if you prefer a small snack it should consist of no more than one handful of organic raw seeds such as pumpkin, hemp or sunflower and nuts such as walnuts, Brazil nuts, or almonds. Tip: it's best to avoid the snack if possible and just drink the Water/lemon/ACV Drink.
6:00pm: Drink one 8-ounce glass of the Kidney Cleanse Drink.
7:00pm: Eat Dinner: follow the same suggestions as you did for lunch using fresh organic vegetables, homemade vegetable soup, or eat a fresh salad. Use or combine the following kidney cleansing vegetables: artichoke, salad greens, avocado, asparagus, beets, cabbage (green, purple or both), cucumbers, kale, sprouts, garlic, onions, and cauliflower. Drink only the Water/Lemon/ACV Drink with your dinner meal.
8:00-10:00pm: Before bed, take 4 capsules of Oxy-Powder and 2 capsules of Latero-Flora. The Latero-Flora will help balance the Probiotic bacteria in the intestinal tract to assist in kidney cleansing. Do not go to bed past 10pm!
If you have any questions before or during your kidney cleanse please call our customer support team between the hours of 10am-6pm CST M-F at 1-800-476-0016. We are happy to help you in any way we can.
FAQs

+
Frequently Asked Questions About the Kidney Cleanse Kit
What are the kidneys?
The kidneys are a pair of bean-shaped organs located near the middle of the back. They're an integral part of the body's waste management system and filter over 200 quarts of blood every day.
The kidneys also release three important hormones:
Erythropoietin, which stimulates red blood cell production.
Renin, to support normal blood pressure.
Calcitriol, which is the active vitamin D and necessary for bone health.
What is the kidney cleanse?
The kidney cleanse uses herbs and nutrition to detoxify the kidneys and optimize normal function. Along with colon and liver cleansing, it is of the most basic and necessary cleansing protocols. Although the kidneys are self cleansing, dehydration, nutritional deficiencies, and environmental toxins can affect their performance. Additionally, because the body functions as a sum of its parts, any ailment can stress the kidneys. Detoxification helps expel toxins and encourages the kidneys, and your entire body, to function as it should.
Are there any side effects to the kidney cleanse?
While cleansing, you may feel tired, sluggish, or irritable, otherwise known as a healing crisis. You may smell uric acid under your arms or in your urine. These indications are temporary and will pass. Try to remain comfortable by resting, taking warm baths to encourage toxin release, and drinking purified water.
What are kidney stones?
A kidney stone is a mass that forms in the urinary tract. They typically develop because calcium oxalate has crystallized. Kidney stones are marked by extreme discomfort near the kidneys or lower abdominal area. They can also cause difficulty urinating, blood in the urine, nausea, and fever.
Can a kidney cleanse prevent kidney stones?
Although the herbs and nutrients used during the cleanse are beneficial, no scientific evidence says they prevent kidney stones. Ways to reduce your risk include consuming adequate water and limiting sodium intake. If you've had kidney stones in the past, you should also avoid foods high in oxalate, such as chocolate, sweet potatoes, sesame seeds, okra, greens (including spinach), and nuts.
What are the best herbs and foods to eat while performing the kidney cleanse?
There are a number of foods that support the kidneys. Marshmallow root, juniper, stinging nettle, red clover, ginger, and golden rod are known to promote kidney health. A few of the other best options include:
Lemon juice can increase urinary citrate levels to defend against kidney stones.
Parsley helps the kidneys produce more urine. The more urine is produced, the more waste that's eliminated.
Dandelion promotes the elimination of toxins.
Watermelon is largely water and can dilute the urine.
Celery stalks and celery seeds can increase urine production. Stalks can be eaten or added to a smoothie, seeds can be brewed into a tea.
What foods should be avoided while performing the kidney cleanse?
Some foods should be avoided, including:
Meat and other animal products.
Caffeine, including coffee and tea.
Alcohol in any form.
Dark chocolate.
Non-essential medication.
Table salt.
Foods with artificial ingredients, sweeteners, or preservatives.
Carbonated beverages, including sparkling water.
Why is it important to stay hydrated?
It's imperative to stay hydrated -- always -- not only while performing the kidney cleanse. Dehydration is the most common cause of stress on the kidneys. Ideally, every day, you should consume half your weight in ounces of water. For example, if you weigh 180 pounds, drink 90 ounces of water on a daily basis. It's even more important to drink water during the cleanse since some of the herbs may flush the kidneys by increasing the rate of urination.
What are other good measures for promoting kidney health?
Additional measures for promoting kidney health include:
Avoid tobacco, alcohol, and caffeine.
Keep your cholesterol, blood pressure, and blood sugar levels in check.
Drink plenty of purified water.
Retain a healthy body weight.
Can castor oil packs encourage kidney cleansing?
Castor oil packs prompt expulsion of toxins and are a great tool to use when performing the kidney cleanse. When the kidneys can't filter toxins, toxins enter the lymphatic system and can affect the whole body. Using castor oil packs over the kidneys promotes lymphatic drainage and helps the body purge toxins.
Reviews

+