What Is CoQ10 & BioPQQ with Shilajit?
Keeping your brain and heart healthy is vital to longevity and well-being. Whether you're an older adult who wants to stay active as the years go by, or a young professional seeking to enhance your productivity, having enough energy to live the life you want is a key component of a happy, fulfilling life.
CoQ10 & BioPQQ with Shilajit is a blend of potent antioxidants to support cellular energy production as well as heart and brain health. Now you can have the energy you need to live the life you want.
Health Benefits of CoQ10 & BioPQQ with Shilajit
CoQ10 & BioPQQ with Shilajit is a unique combination of antioxidants and vitamin-like nutrients that provide comprehensive support for the body's creation of energy at the cellular level. Our longevity formula is especially effective for heart and cardiovascular health, brain function, and cognitive abilities.
Upgrade Your Natural Energy
Over 90 percent of the body's energy is created at the cellular level by mitochondria — the "powerhouse" of the cell. CoQ10, PQQ, and shilajit all support and protect mitochondrial function to naturally boost energy levels.
Keep Your Heart Happy
The heart uses more energy than any other organ. CoQ10 & BioPQQ with Shilajit fuels mitochondria in cardiac tissue. Its antioxidant action promotes heart health by protecting cellular structures and promoting optimal oxygen use.
Boost Your Brain
A sharp mind is key to efficient productivity. CoQ10 & BioPQQ with Shilajit supports neurological health by boosting your brain's normal production of brain nerve growth factor. This growth factor protects the brain and helps produce new brain cells.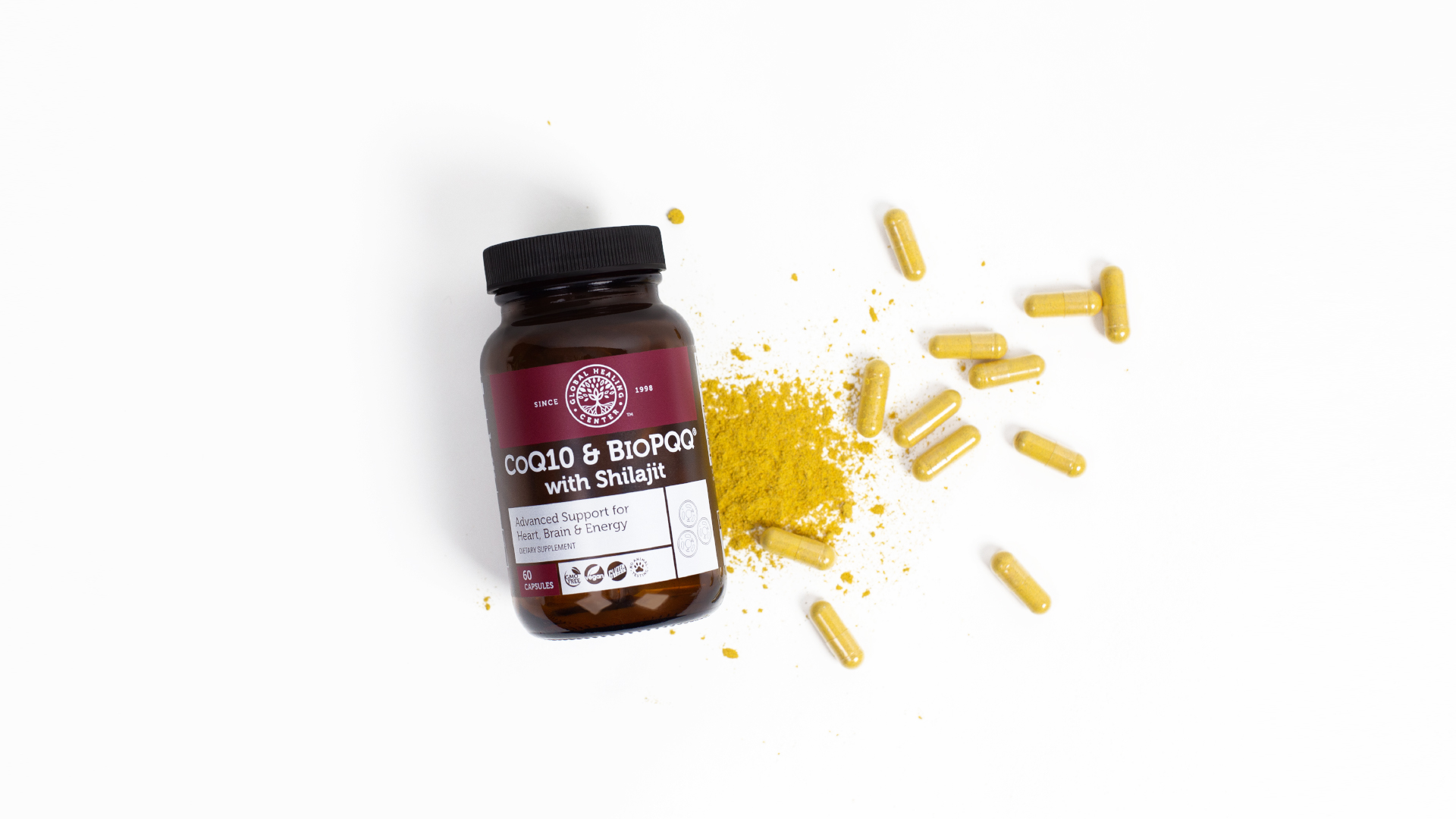 The Top 5 Reasons to Take
CoQ10 & BioPQQ with Shilajit
"Living a long, healthy, and happy life is a product of staying mentally sharp and physically strong. CoQ10 & BioPQQ with Shilajit helps with both and should be at the foundation of every nutritional protocol. What are you going to do with more energy?"
DR. EDWARD F. GROUP III, DC, NP
Take one capsule twice daily or as recommended by your healthcare practitioner.
SUPPLEMENT FACTS
Serving Size: 1 Capsule
Serving Per Container: 60
Coenzyme Q10
(as Kaneka Q10® Ubiquinone)
150mg
*
Organic Shilajit
(as PrimaVie® Organic Purified Shilajit)
85mg
*
BioPQQ®
(Pyrroloquinoline Quinone Disodium Salt)
10mg
*
*Daily Value (DV) not established
Other Ingredients: vegetable capsule (cellulose), organic gum acacia, Nu-FLOW® organic rice hulls
What's In CoQ10 &
BioPQQ with Shilajit?
What's Not In It
We will never use ingredients or packaging that could harm your health or the environment. CoQ10 & BioPQQ with Shilajit is free of:
Why Our CoQ10 & BioPQQ with Shilajit Is Different
The advantages of this product come from its three ingredients working together synergistically.
VS
Kaneka Q10
We use Kaneka Q10 — the only CoQ10 manufactured in the U.S. It's backed by 30 years of safety and clinical research, and it's bio-identical to the CoQ10 your body produces.
Synthetic CoQ10
Many CoQ10 supplements are synthetically produced and cheaply made. They're not formulated for optimal absorption and some cause abdominal discomfort.
BioPQQ
BioPQQ is the most thoroughly tested and studied PQQ in the world. Naturally produced through fermentation, it's the only PQQ recognized by the FDA as a New Dietary Ingredient.
Synthetic PQQ
Like CoQ10, PQQ is a popular nutrient and many companies look to cash in with low-quality, synthetically produced supplements.
PrimaVie Shilajit
PrimaVie Shilajit is organic, purified shilajit from the Himalayan mountains. It's rich in fulvic acid to enhance your body's absorption of CoQ10 and BioPQQ.
Contaminated & Fake Shilajit
Genuine shilajit is rare, difficult to obtain, and in high demand. Many products labeled as "shilajit" are low quality or similar-looking substances.
Taking CoQ10 &
BioPQQ with Shilajit
Tips for Taking CoQ10 & BioPQQ with Shilajit
Take With Food
CoQ10 is fat soluble and should be taken with fat-containing food for optimal absorption.
Take At Night
Taking this supplement at night promotes restful, restorative sleep.
Our Pure Earth Promise
We use only the best ingredients. You may notice slight taste, smell, and color variations in each bottle. While other companies use chemicals and dyes to hide the naturally occurring variations, we proudly embrace them as a reminder of the ingredients' natural authenticity.
"Our mission is to guide you on your journey to a healthy, balanced life through cleansing, nutrition, exercise, and a happy mind. It's why we create nutraceuticals that are rooted in nature and backed by science."
DR. EDWARD F. GROUP III, DC, NP
How Can We Help?
We're here for you.
Our award-winning Customer Satisfaction Team will help you every step of the way!
If you have any questions about CoQ10 & BioPQQ with Shilajit or any of our other products, please reach out! Your satisfaction is our top priority.