Get notified when this product is available:
Learn How You Can Benefit Today From the Astonishing Power of Silver Fuzion®!
Global Healing Center
is trusted by:
Why should you trust us?
We get over 30,000 daily visitors and have served over 1 million customers.
We have over 8,000 affiliates worldwide.
There are over 1,000 doctors worldwide who distribute and promote our products.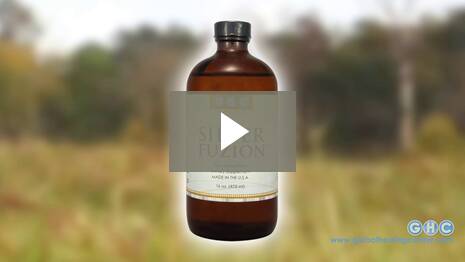 What you'll discover on this page:
What is Silver Fuzion®?
Silver Fuzion® is 99.999% pure microscopic angstrom scale colloid silver particles suspended in a triple distilled water base. Each particle of silver is extremely minute, ranging in size of 0.0001 to 0.00001 microns, to ensure maximum absorption. Unlike other colloidal silvers, Silver Fuzion® is bonded to fulvic acid and contains no additives or contaminants; nor is there particle fallout.
What are the Top 5 Reasons You Need Silver Fuzion®
This is the premium silver solution to promote immune system health!
Supports harmful organism cleansing.
Contains fulvic acid, one of the most nutritional and potent biochemical substances available.
Unlike low-quality colloidal silver, Silver Fuzion® will NOT cause argyria.
Very helpful for balancing candida overgrowth!
What are the Health Benefits of Silver Fuzion®?
Promotes a healthy immune system.
Silver water is toxic to many harmful organisms.
Has a long history of use to support good health.
Why Silver Fuzion® is Risk-Free For You To Try
We are sure you will see and feel the health benefits of Silver Fuzion®.
If you aren't absolutely satisfied...if you aren't feeling better, you're protected by our...
100% No-Risk 180-Day Money Back Guarantee
If you are not satisfied with your results, just let us know and we'll send you a prompt refund. No questions asked.
Why is Silver Fuzion® the Best Silver Water Available?
Silver Fuzion® is an "Angstrom Scale Colloid" and does not have the harsh abrasiveness of an ionic solution or the low activity, heaviness, or dullness of a colloidal solution.
Regularly lab tested and always free of yeast, mold, and bacteria.
Pure! Contains no toxins or harmful additives.
Includes fulvic acid to efficiently cleanse the body's cells.
GMO free and NEVER tested on animals!
Carefully made in the USA!
What are the Top 3 Questions People ask about Silver Fuzion®?
1. How does Silver Fuzion® work? Silver Fuzion® supports normal immune system function. Most unfriendly organisms do not need oxygen for their survival, as they survive in the presence of certain enzymes your body produces. It is believed that silver acts as a catalyst in normalizing levels of those specific enzymes that the organisms use for nourishment to survive. It does not attack the pathogens, like a drug would, but supports a biological status that is not hospitable to them.
2. How effective is liquid silver? In his book "The Use of Colloids in Health and Disease" Alfred B. Searle performed a test using two plates filled with gelatin. Liquid silver was placed in one plate for about five minutes with the gelatin. The other plate did not contain liquid silver. Both plates were then left at a constant 68° for 48 hours. The plate that was not coated with silver had about 350 colonies of microbes, and the plate that was covered with silver had very few! An in vitro test is not intended to duplicate what may happen in your body, but does show that bacteria don't like to grow in the presence of silver ions.
3. Does silver have a long history of use? Silver has historically been used to support your body's natural immune system ability to respond to unfriendly microorganisms. American settlers put silver coins in milk to help keep it fresh; in the 1930's, American physicians relied on silver. Today, silver is used in bandages and salves, and even put into newborn eyes. These traditional uses or FDA approved OTC (over-the-counter) uses of topical silver are not to be confused with ingesting nano particle silver to supplement the diet. When you use Silver Fuzion®, you are feeding your body nutrients that supports normal health.
Get Started Today & Discover How Silver Fuzion® Can Boost Your
Health and Wellness... Or Your Money Back!!
Ingredients:
Micro-Particle silver bonded to fulvic acid
Silver water consists of ultra small silver particles suspended in water. Its been shown to be toxic to many harmful organisms and has a long history of use to support good health.
Other Ingredients:
Distilled water activated with Wellness Water™ technology
Suggested Use
Drink 2 or more ounces every other day on an empty stomach immediately in the morning or before bed. Daily amount may vary according to the intended purpose or as prescribed by a qualified health professional.
Warnings
Consult your health care professional for use in children under the age of 12.
Keep this and all supplements out of reach of children.
Store in a cool, dry place.
This product has not been evaluated by the Food and Drug Administration.
This product is not intended to diagnose, treat, cure, or prevent any disease or condition.
Frequently Asked Questions About Silver Fuzion®
What is Wellness Water?
Wellness Water is water that has been energized, purified and enhanced for health. During production, distilled water is passed through the wellness water enhancement system.
Will Silver Fuzion® cause argyria, a condition that causes the skin to turn blue-gray from the use of colloidal silver?
No. Argyria is a condition that has been made famous by individuals trying to degrade the effectiveness of silver compounds. Argyria is a concern when concentration levels of silver are well beyond safe limits. Some examples of colloidal silver from the 1900s had a 30% concentration which would be the equivalent today of 300,000 ppm (parts per million).
How many parts per million is the concentration of silver?
Silver Fuzion® is 10 ppm.
Other silver products recommend just 1 teaspoon per day. Why is Silver Fuzion® higher?
According to studies a reasonable amount of 10 ppm colloidal silver would be approximately 1-ounce every day. Silver Fuzion® would be defined as an angstrom scale colloid. One ounce every second day is recommended because it gives your body a day to detoxify and does not throw your body into a healing crisis, making it easy for your body to process and eliminate dead organisms.
What is Fulvic Acid and why add it to Silver Fuzion®?
Fulvic Acid has shown in recent studies to be one of the best nutritional and biochemical substances that the body utilizes. Fulvic Acid works as the best organic and natural electrolyte which helps balance out the body's energetic and biological systems. This enables cells to be active, healthy, to reconstruct properly and to rebalance the electrical cellular potential. When the Fulvic Acid bonds to the silver it turns the silver into a bio-available form that will travel past the blood brain barrier and travel intra-cellular much easier. It could really be defined as a Fulvic Acid silver molecular complex or Silver Fulvic Acid molecular complex. It also enhances the availability and transportation of nutrients making minerals and vitamins more readily available. Fulvic Acid also increases activity of enzymes, helps stimulate metabolism, increases oxygen concentration and enhances cell-division.
Is it true that, because high silver particle concentration, true silver colloids are never clear like water?
Silver Fuzion® does not have the same characteristics because it is bonded to fulvic acid, the color is anywhere from a clear to a slight whiteness. It is in between an ionic and an actual colloid form.
Why are some colloidal silvers golden in color?
A yellow, gold or orange color means that the processing was possibly contaminated. Do not purchase anything that is not completely clear or slightly cloudy. There is no such thing as "golden" or yellow colloidal silver. Pure silver particles suspended in water should be clear at low PPM concentrations or have a very slight white-colored cloudy fog to it.
Merck's Handbook describes many silver compounds as "pale yellow." They include silver bromide, silver carbonate, silver chloride, silver hypo nitrate, silver iodide, silver nitrite, silver phosphate and silver picrate. Some of these compounds are described as toxic. Some silver compounds are quite toxic. Merck's lists silver nitrate as highly poisonous.
Does Silver Fuzion® contain nitric acid?
No, Silver Fuzion® does not contain any nitric acid. Nitric acid would occur with improper current or mineral water instead of distilled water.
What Should I Do If I have a Candida or Yeast Overgrowth?
Should I Eat Fruit if I Have Candida or Yeast Overgrowth?