Our Oregano Oil Blend Was Featured on NaturalNews.com!
"This is a super potent form of oregano oil, which kills many harmful
organisms! I consider this to be one of the top oregano oil
products in the industry"
Learn About The Astonishing Power of Organic Oregano Oil and How You can Benefit From its Defensive Action Today!
Global Healing Center
is trusted by:
Why should you trust us?
We get over 30,000 daily visitors and have served over 1 million customers.
We have over 8,000 affiliates worldwide.
There are over 1,000 doctors worldwide who distribute and promote our products.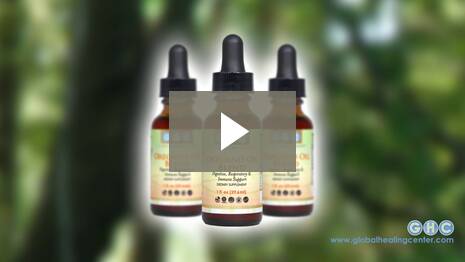 What is Oregano Oil?
Known as nature's potent defender against unwanted invaders, Global Healing Center's Oregano Oil is a premium, concentrated blend of organic oregano oil, organic peppermint, capsicum oils, and an organic virgin olive oil base!
Dr. Group created this extremely potent oregano oil formula to surpass the purity, potency, and effectiveness of anything on the market and have a product he could confidently recommend.
The History and Invention of Our Oregano Oil
Dr. Edward F. Group III, DC, ND
"I believe oregano oil is one of the greatest healing agents known to man and I've used it for years to enhance my own health and that of my patients. Because it's so effective, I wanted to create our own product that was organically sourced. Thus began a two year journey to develop the most advanced, vegetarian and vegan friendly oregano oil formula in the world. In looking for the best source of oregano, I found that oregano grown high atop the Turkish mountain area contained the highest levels of the active ingredient, carvacrol. Combining it with organic peppermint oil and 250,000 scoville heat units of capsicum (the active ingredient in cayenne) in an organic virgin olive oil base would produce a formula like no other. After much testing and many trial batches, we finalized a formula that provides optimal strength and effectiveness and are proud to offer it here."
-Dr. Edward F. Group III, DC, ND
The Top 5 Reasons You Need Oregano Oil
Oregano oil contains high levels of antioxidants to help fight damaging free radicals
Oregano oil provides support against common infectious ailments
Supports digestion by stimulating the flow of bile in the digestive organs
Excellent source of vitamins A, C, and E, and zinc, magnesium, iron, calcium, potassium, copper, and niacin
Oregano oil is very toxic to harmful organisms!
What are the Benefits of Oregano Oil?
Laboratory tested, proven effective at resisting harmful organisms!
Supports digestive health!
Energizes the immune system!
Promotes joint and muscle flexibility!
Strengthens respiratory health!
We Asked Our Customers What They Like About Our Oregano Oil Blend...
"Amazing!!! First sign of any symptom and we take it for a few days and never get sick!! I tell everyone about it." ~ Silvia
"Amazing help! I've used this amazing product to help my battle with sinus problems. I've battled "unknown" health issues for years and more recently have experienced "new" symptoms which have gotten worse. I took 5 drops in a capsule. I was astounded at the improvement in my well-being within a short time later. I was able to sit up and function after being bedridden with an uncomfortable feeling of malaise, pain and extreme fatigue for 2 full days. I have taken several servings since and I can say that I know have encouragement and hope that I can learn to cope and deal with this. I will diligently take this product. I might add that I have used other brands of Oil of Oregano in the past, both in capsule form and tincture, and GHC's Oil of Oregano is far superior than the 5 other brands and forms I've tried." ~ Anita
Why This Oregano Oil Blend is Risk-Free For You To Try
We are sure you will see and feel the action of this Oregano Blend.
If you aren't absolutely satisfied...if you aren't feeling better, you're protected by our…
100% No-Risk 180-Day Money Back Guarantee
If you are not satisfied with your results, just let us know and we'll send you a prompt refund. No questions asked.
Why is this the Best Oregano Oil Available?
300% higher concentration of Carvacrol in the oregano oil (minimum of 80%)
No artificial, chemical or toxic byproducts
Suitable for vegetarians
Contains a cold-pressed laboratory grade formula of Wild Organic Mediterranean Oregano
Contains essential minerals and vitamins
Our high-quality Oregano Oil undergoes rigorous testing and meets the standards of the USDA National Organic Program. ECOCERT SA Organic Certification # 1848TR0600z2e
What are the Top 3 Questions People Ask About Oregano Oil?
Does oregano oil work the same way as echinacea? No, oil of oregano is naturally toxic to harmful organisms and it's an immune booster. Echinacea is only an immune system stimulant. Echinacea may aid the immune system but will not destroy harmful organisms. Oil of oregano has been laboratory tested and proven to be one of the most effective and safest known agents against harmful organisms.
Why is cayenne pepper included in the formula? Cayenne pepper is added to this formula to support the circulatory system.
Can I take the oregano oil without using capsules? No, this blend tested at over 80% carvacrol and will burn if swallowed. Empty capsules are included to be used with this potent oregano oil blend.
Additional Tips for Using Oregano Oil
Oregano oil contains capsaicin (the hot stuff in hot peppers), add drops of oregano oil to the included capsules before taking.
Prepare capsules as needed, oregano oil will disintegrate vegetable glycerin capsules.
Use oregano oil regularly to promote good health.
Drink plenty of purified water when taking oregano oil. Water helps flush away toxins left from dead pathogens. Divide your body weight in half, and drink that many ounces of water each day to promote good health. For example, if you weigh 180lbs, drink 90oz of water throughout the day.
Still Not Sure if Oregano Oil Can Help You? Just Read these Reviews...
"Remarkable. I had some bad dental work, I had a simple tooth filling done and got a horrible infection. I took the oregano oil blend three times a day and within 2 days I could tell a difference. I Kept taking it for 2 weeks, just to be safe, and it completely cleared up. I have to go back to the dentist to have more work done, so I started taking it to prevent it from happening again. I also noticed other improvements in my health while taking it, my allergies calmed down, my stomach felt better, I just felt better overall. LOVE THIS STUFF!" ~ Diane
"Excellent Product! I have been using oregano oil for years. This is by far the most potent that I have ever used. I don't even take it internally. I dab it behind my ears and let it diffuse into my nose and mouth. I have found a new use for it too. This thrills me. I have always suffered from seasonal allergies. This stops them cold. Amazing and wonderful!!!" ~ Kathleen
Get Started Today & Discover How Oregano Oil Can Boost Your Health and Wellness... Or Your Money Back!!
Ingredients:
Suggested Use
Shake bottle well. Place 6 drops in a vegetarian capsule. Take at beginning of meal, 2-3 times daily or as recommended by your physician. Do not consume directly as a liquid.
Warnings
Keep out of reach of children.
Consult your healthcare provider before taking if pregnant or nursing, or for any additional concerns.
Do not expose to eyes.
Frequently Asked Questions About Oregano Oil
What Should I Do If I have a Candida or Yeast Overgrowth?
Should I Eat Fruit if I Have Candida or Yeast Overgrowth?
Will oregano oil cause heartburn?
If used as directed, taken after meals, it should not cause heartburn.
Customers who bought this item also bought:
Regular Price: $34.95

Special Price: $29.95

Regular Price: $29.95

Special Price: $24.95