Learn How Hematrex® Can Promote Optimal Vein Health!
Global Healing Center
is trusted by:
Why should you trust us?
We get over 30,000 daily visitors and have served over 1 million customers.
We have over 8,000 affiliates worldwide.
There are over 1,000 doctors worldwide who distribute and promote our products.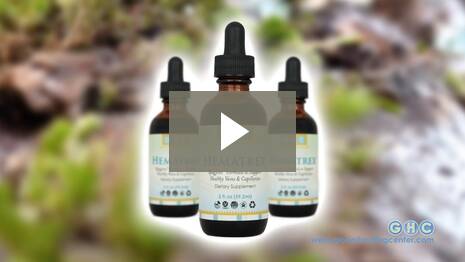 What you'll discover on this page:
What is Hematrex®?
Strengthening vein walls is crucial to supporting healthy circulation. Hematrex® is specially formulated to promote circulatory health by increasing vein durability, wall strength, and elasticity. Hematrex® is a combination of 9 powerful herbs and MSM, a powerful nutrient designed to help your body soothe swollen and uncomfortable veins.
A Brief History of the Invention of Hematrex®
Dr. Edward F. Group III, DC, ND
Hematrex® is the result of ancient wisdom reinterpreted in the light of modern equipment, production and analysis.
Hematrex® is based on Global Healing Center's Spagyrex® process which was invented during Dr. Group's research on the root cause of poor health conditions. He found that health problems are caused when the body becomes contaminated with toxic residue from air, food, water,, harmful organisms, stress, and more. Toxic accumulation suppresses the body's own internal self-healing mechanism.
This led him on a journey to create the most powerful, herbal vein and circulatory support product. It all started by studying the works of the most famous 16th century healer, scientist and alchemist, Paracelsus.
Paracelsus, composed the word Spagyria (Spagyry), which means to extract (spao) and combine (ageiro). The describes the process and power of transmuting a preparation of herbs into an elixir of health and longevity. Dr. Group took this original technology and advanced the science and art of spagyry-based processes by adding and combining herbs that support vein durability, wall strength and elasticity and promote normal circulation.
Global Healing Center's Spagyrex® process combines ancient and current technologies to create a revolutionary, multi-step, proprietary alchemy and spagyry-based processing technique. This follows the principle of separating and recombining all the elements of an herb to extract the most powerful essence of its healing nature. This results in a Harmonious Organic Supercharged Extract.
The Top 5 Indications You May Have Poor Circulation
Do you regularly sit or stand for long periods of time?
Do you strain while having a bowel movement or have less than 2 bowel movements each day?
Do you get enough fiber?
Do you not get enough exercise?
Are you obese or overweight?
What are the Benefits of Hematrex®?
Hematrex® provides nutrients to support optimal vein health!
Helps normalize permeability of veins and capillaries to promote elasticity.
Promotes blood flow by strengthening the walls of veins.
We Asked Our Customers What They Like Best About Hematrex®
"Great Product! Every winter season I get severe cold feet due to circulatory problems but since I started using Hematrex I feel much better than before. This product certainly works and I have no reservations in recommending it to others. I certainly will continue to use it in the future. Thanks Dr. Group!" † ~ Ben
"Helps with hemorrhoids. I must admit that I don't take it twice daily which would probably help more - the expense prevents that. My naturopath doctor said that she could see the good effects of it in my circulatory system. I will be purchasing more." † ~ Laura
"Fantastic stuff! Oh my goodness this stuff works amazingly fast. I was in desperate straits with my hemorrhoids acting up one night, and found total relief with Hematrex till the next morning. I highly recommend this product to anyone to keep on hand if you have issues with reoccurring discomfort from hemorrhoids. I used it for about a month and all is good again. Thank you Dr Group!" † ~ Dot
Why Hematrex® is Risk-Free For You To Try
We are sure you will see and feel the health benefits of Hematrex®.
If you aren't absolutely satisfied...if you aren't feeling better, you're protected by our... 100% No-Risk 180-Day Money Back Guarantee
If you are not satisfied with your results, let us know and we'll refund your money, No questions asked.
Why is Hematrex® the Best Circulatory Support Product Available?
Developed by Dr. Edward F. Group III, world-renowned for his organic, neutraceutical formulations!
Contains certified organic and wild-crafted herbal ingredients.
100% Kosher and vegetarian safe!
Does NOT contain excipients, binders, fillers, toxic preservatives, or other impurities.
Never tested on animals and proudly made in the USA!
What are the Top 3 Questions People ask about Hematrex®?
1. Why is vein health important? Excessive straining or pressure from sitting, stress, constipation, or diarrhea can cause veins to become constricted and uncomfortable. This may even lead to bleeding if vein walls become so weakened they break open, exposing you to infection.
2. Should I take Hematrex® with my blood pressure medication? This is not recommended as it could lower blood pressure and cause complications such as anemia.
3. Will Hematrex® get rid of hemorrhoids? Hematrex® can help overall circulation and, over time, may help to decrease hemorrhoid swelling.
Still Not Sure if Hematrex® Can Help You? Just Read These Reviews...
"No More Discomfort or Sensitivity! I wanted to tell you how impressed I am with your Hematrex product. I had very fast results with strengthening the blood vessel walls - I'm amazed how quickly my body responded. No more discomfort or sensitivity - no more Preparation-H required! Thank you for improving my life!" † ~ Brenda B., Inverness, CA
"Hematrex is a great product! Hematrex is a great product! I immediately noticed more mental clarity as soon as I started taking it... my other reasons for needing veinous support have also been alleviated. Thank you!" † ~ Laura S., Fairfield, Iowa
"Cold feet are gone! I used to wear socks day and night even on summer at home but since I use this product, I no longer wear socks. Cold feet is gone. I only take 1/4 tsp in the morning to avoid getting a low blood count which was with me even before I took this herbal. But I can feel the flexibilities of my hands and feet. It gives a healthy circulation because my numbness in the thumb finger is gone too. It has also a good taste. I can recommend this to elder people." † ~ Delia
Order Today and Let Hematrex® Boost Your Wellness... Or Your Money Back!!
Ingredients:
Wildcrafted Collinsonia (root)
Collinsonia's supports blood vessel contraction and flow, helps to reduce irritation, improve digestion, calm the swelling of rectal veins, and keep the mucus membrane healthy.
Japanese Sophora (flower)
Promotes circulation by normalizing the permeability of the veins and capillaries and by providing nutrients to optimize vein health.
Mimosa (bark)
This Ayurvedic plant possesses unique qualities. If touched, its leaves will fold closed and won't reopen until they're released.
Organic Bupleurum (root)
Used in Chinese medicine as a cooling herb for over 2000 years to promote circulatory health and strengthen the vein walls.
Organic Gotu Kola (leaf)
Supports optimal vascular health, promotes improved mental clarity.
Organic Horse Chestnut (fruit/hull/seed)
Aescin is the widely sought after ingredient in horse chestnut used by alternative health practitioners to support optimum circulation.
Organic Butcher's Broom (root)
Contains high levels of flavonoids that strengthen capillary walls and support a healthy circulatory system. Butcher's Broom improves the elasticity of stretched and swollen blood vessels, thereby restoring strength to the vessel walls and reducing blood pooling.
Wildcrafted Witch Hazel (leaf)
Witch Hazel is a small tree widely used as a topical astringent to reduce redness.
Organic Oregano (leaf)
Reduces temporary soreness.
Shilajit
Decomposed plant matter loaded with minerals, and humic acid and fulvic acid, which are key to promoting detoxification and circulation.
Other Ingredients:
Kosher certified vegetable glycerin
More gentle and stable than alcohol, USP Kosher certified vegetable glycerin is the best solvent base for Spagyrex® formulations.
Purified water (pH neutral)
Purified water is one of the best neutral carriers. It's effective, gentle, and, unlike alcohol, appropriate for everyone.
Suggested Use
Take 1 serving, approximately 2 droppers, in the morning and 1 serving in the afternoon before meals.
†Results may vary.
Customers who bought this item also bought:
Safe & Natural Colon Cleanser

Herbal Liver Support Formula

415+ Essential Vitamins & Minerals