Learn About the Astonishing Power of
Chemical and Toxic Metal Cleansing!
Global Healing Center
is trusted by:
Why should you trust us?
We get over 30,000 daily visitors and have served over 1 million customers.
We have over 8,000 affiliates worldwide.
There are over 1,000 doctors worldwide who distribute and promote our products.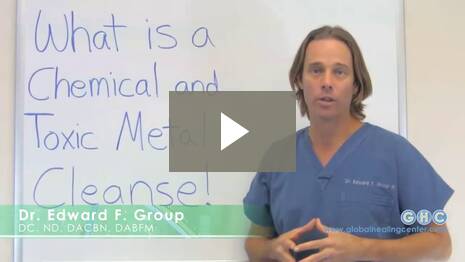 What is a Chemical and Toxic Metal Cleanse?
A chemical and toxic metal cleanse is an all natural process designed to flush, detoxify, and purge the body of harmful chemicals and toxic metals. Most people are exposed to many toxic chemicals and metals on a daily basis. Chemicals and toxic metals are accumulated in the body from exposure to contaminated air, water, food, VOC's (Volatile Organic Compounds), beverages and environmental contaminants.
Once in the body, chemicals and toxic metals can multiply the production of harmful free radicals (by up to one million times) and may cause deadly chain reactions. They poison the body, impair the function of cells, tissues, and organs, and can ultimately lead to a number of serious health concerns.
A chemical and toxic metal cleanse should be performed regularly by taking a mixture of detoxifying herbs with the addition of organic detox foot pads to help the body naturally eliminate the harmful buildup of chemicals and toxic metals in the body.
The Top 5 Reasons You Need a Chemical and Toxic Metal Cleanse
The chemical and toxic metal cleanse is designed to slowly detoxify your body of harmful chemical residue and toxic metals that may have accumulated over time.
Over 70% of the world's coffee supply is contaminated with toxic pesticides and chemicals. It's estimated that just one cup of coffee contains more than 2,000 chemicals, many of which are gastrointestinal irritants and cancer-causing agents. Also, the high heat used in roasting coffee beans causes the natural oils to turn rancid, further contributing to its chemical load.
One out of every ten women of childbearing age has dangerously high concentrations of mercury"…within one tenth of potentially hazardous levels" in their bloodstream. [1]
Bottled water, infant formulas, toothpaste, mouthwash and even vitamin supplements, now contain fluoride! Fluorides are more toxic than lead and only slightly less poisonous than arsenic.
The EPA lists over eighty "regulated" contaminants found in tap water such as chlorine, fluoride, arsenic, and numerous pesticides. This figure doesn't even include unregulated toxins such as perchlorate (a chemical found in rocket fuel!).
Shocking Statistics about Chemical and Toxic Metal Exposure
Some studies estimate 99% of the breastmilk in women residing in the United States contains measurable levels of DDT (Dichloro-Diphenyl-Trichloroethane), the first modern toxic chemical pesticide.
MSG is a toxic substance and causes adverse reactions, brain lesions, endocrine disorders, and other negative health problems."
Industrial contaminants (such as dioxins, PCBs, and mercury), microbial contaminants (such as E. coli), and natural contaminants (such as aflatoxin) can be found in foods." [2]
"The chemical, acrylamide, which is used industrially in the manufacturing of some plastics, is also apparently formed by the heating of starches. Foods with especially high levels of the chemical included French fries, potato chips and crackers."
An alarming study published in the American Journal of Public Health estimates a 95% risk of developing cancer from regular consumption of chlorinated tap water! [3]
The National Resources Defense Council (NRDC) estimates "…as many as 56 million people in the 25 states reviewed by the U. S. Environmental Protection Agency … have been drinking water with unsafe levels of arsenic…"! Arsenic is the number 1 cancer causing agent! [4]
Health Benefits of Chemical and Toxic Metal Cleansing
Helps the intestinal tract removes toxins
Easier for the liver to break down and eliminate toxins
Increased vitality and energy
Balances emotions and stress levels
Improves clarity and reduces brain fog
Removal of toxic chemical and metal buildup
What's Included in the Chemical and Toxic Metal Cleanse Kit?
Zeotrex® incorporates the chemical and toxic metal cleansing ability of organic zeolites in combination with powerful angstrom-colloid chemical and toxic metal cleansing herbs.
In today's market, most chemical and toxic metal cleansers contain the liquid zeolites or a blend of herbs. Global Healing Center is first in the world to develop a formula that combines the zeolites and organic herbs in one stable formula that's very easy to take.
These Detox Foot Pads take advantage of reflexology to withdraw toxins from your body through the more than 60 acupuncture points on the soles of the feet. These acupuncture points directly reflect the major organs and systems of the body. They are part of the biorhythmic network that registers our total well-being.
Detox Foot Pads work safely and effectively. There are no harsh chemicals, animal ingredients or other unnatural substances included. Our formula is developed with select gemstones and organic herbs. Ancient healing wisdom and technological advances have been used to formulate our Detox Foot Pads, a powerful product that naturally stimulates your own immune system to expel invading toxins.
Dr. Edward F. Group III has compiled more than twenty years of research and results into his latest groundbreaking book. He reveals what he has learned throughout his years of counseling people with serious health conditions. It's information that everyone should possess to help them make healthier choices.
Dr. Group explains the many sources of toxins in your diet, home and workplace, and how they may cause sickness and disease! He further reveals the secrets of how you can vastly improve your health by cleaning the air, water and food you consume on a daily basis.
The Green Body Cleanse provides you with remarkable information not revealed by conventional medicine, for having a healthier body, living a healthier, greener lifestyle.


Please note this is optional and available as an add on
Bragg's Organic Raw Apple Cider Vinegar is made from organically certified apples. It is unfiltered, unpasteurized, kosher-certified and contains the 'mother' of vinegar. It has been certified in accordance with USDA organic standards.
Help breakdown fats, so your body can use them instead of store them
May help speed up your metabolism
Helps restore alkaline acid balance
Why our Chemical and Toxic Metal Cleanse is Risk-Free For You To Try
We are sure you will see and feel the health benefiting results of this chemical and toxic metal cleanse.
If you aren't absolutely satisfied, you're protected by our...
100% No-Risk 180-Day Money Back Guarantee
If you are not satisfied with your results, just let us know and we'll send you a prompt refund. No questions asked.
Why Is This the Best Chemical and Toxic Metal Cleanse Kit Available?
Chemical and toxic metal cleansing with Zeotrex® is the most effective, safest and easiest method available!
Zeotrex® is the only cleanse product on the market which uses a Spagyrex™ processed blend of powerful herbs to support harmful chemical and toxic metal cleansing. These herbs are formulated to synergistically help the body eliminate stored compounds in a safe and effective way.
Includes easy to follow instructions
We offer a trained customer service team to answer your questions and walk you through the cleansing process.
Does not require the ingestion of potentially toxic herbs or compounds - Others Do!
Includes Dr. Group's powerful Detox Foot Pads which absorb toxic compounds while you sleep.
Comes with a no questions asked, money back guarantee!
What are the Top 3 Questions about Chemical and Toxic Metal Cleansing?
1. What will come out of me? Our chemical and toxic metal cleanse will bind to and flush stored substances from your body. These harmful substances may include built up mercury, aluminum, lead, cadmium, other damaging metals and chemicals. These toxins can be eliminated through your fecal matter and urine. Other forms of toxic material trapped in the cells, tissues and organs may also exit the body after your cleanse.
2. Is the Chemical and Toxic Metal Cleanse harmful in any way? A good organic cleanse program is very safe and should not cause any type of harm. However, every person is different and some may show temporary detoxification signals such as fatigue and headache.
3. How long will it take to cleanse my body? The best results come with regular cleansing. Because most people have years of accumulated toxins, one chemical and toxic metal cleanse may not be enough. It is recommended that people perform three chemical and toxic metal cleanses per year with the cleanse kit. Using Dr. Group's Detox Foot Pads and following the maintenance serving of Zeotrex® can also be used to slowly cleanse the body over time.
Additional Tips for the Chemical and Toxic Metal Cleanse
Avoid polluted environments, industrial areas are particularly susceptible.
Be cautious when working in older homes as they often contain lead based paint.
Avoid mercury amalgam fillings. If you have them, have them replaced.
Blue-green algae and cilantro have strong detoxification characteristics, add them to your protocol.
Watch out for vaccines that contain toxic metals.
Avoid milk, alcohol, and artificial sweeteners.
Get Started Today & Discover How Chemical and Toxic Metal Cleansing Can
Boost Your Health and Wellness... Or Your Money Back!!
The Chemical & Toxic Metal Cleanse Kit includes:
Frequently Asked Questions About the Chemical and Toxic Metal Cleanse Kit
I noticed skin rashes during the chemical and toxic metal cleanse, is this normal?
When cleansing the body of chemicals and toxic metals you may notice minor changes in the skin because the skin is the largest detoxification organ. These skin changes are normal and are indicative of profound chemical shifts in the fluid systems of the body, indicating effective cleansing of these systems in the body. Please remember that GHC products are extremely powerful and if you are experiencing itching or skin irritation we recommend taking two days off and then continuing with your cleansing until you complete the procedure. You may also want to reduce your serving in half until skin irritation resolves. Drink plenty of purified water and exercise to sweat these toxins out and clear up the skin.
Will I experience side effects during the chemical and toxic metal cleanse?
During advanced body cleansing routine you may experience a "Healing Crisis." This term describes a common phenomenon which may occur during the body's elimination of toxins. The cause of this is due to the accumulation of toxic material which must be processed before being removed from the body. Signals of a healing crisis may include: fatigue, headache, minor rash, lack of mental clarity, joint or muscle ache, irritability, difficulty sleeping (or sleeping too much), or mood swings. Some people experience multiple indications while most people experience no indications during cleansing. These indications are temporary and will usually subside within 1-10 days as the body naturally expels its toxins. If you experience any of these indications drink plenty of purified water to assist your body in the elimination process.
How will I know when the chemical and toxic metal residue is gone from my body?
The Chemical and Toxic Metal Cleanse Kit offers a great start to cleansing your body of chemicals and toxic metals. To get the most out of the program, you may need to use the products continually or until your hair analysis is clean, or until you no longer see black or brown color on your detox foot pads.
Everyone's results differ depending on their diet, living environment, exercise patterns, age, and physical and emotional stress levels. A hair analysis can be performed before and after cleansing to monitor your progress. As your body becomes clean, negative health indications may disappear. Fill out a general health questionnaire before starting a cleansing program and every 30 days while cleansing to monitor results.
Should I continue taking the chemical and toxic metal cleanse products after cleansing?
You may consider continuing on a maintenance program to help you achieve and maintain optimal health. Many adverse health conditions start by the absorption of chemicals and toxic metals from the intestinal lining and colon. That's where the term, "health begins in the colon" originates from. See the individual product details for maintenance instructions.
Preparing for the Chemical and Toxic Metal Cleanse
In preparation for the test, fill out our General Health Questionnaire. It will help to point out indications that you may have overlooked. As you remove the toxins form your body over several cleansings, these indications you've listed should begin to slowly clear up.
If you prefer, you can also check the buildup of toxic metals in your body. Natural healthcare practitioners or chiropractors can perform tests on your urine, hair or blood to determine your levels. To keep track of your progress while detoxifying your body, you may test your toxic metals levels every 30 - 60 days.
Ingredients You Will Need Before Starting Your Chemical and Toxic Metal Cleanse
Instructions for the Chemical and Toxic Metal Cleanse - Days 1-30
Follow the daily serving recommendations below for 30 days or until testing shows that your body is free of toxic metals. Follow the daily water intake, dietary recommendations, and the cleansing tips for best results.
At the end of the 30 days, you should re-evaluate your current health status or toxic load. If you still have health concerns or levels of toxic metals determined by hair, blood or urine analysis after 30 days, take 10 days off and repeat the cleanse. Continue with this process until you are clean or your health has improved. Then, take the maintenance serving of the products below to assist your body in removing chemicals and toxic metals on a regular basis.
Zeotrex® (Take 2x daily for 30 days)
Morning and Evening Daily Serving: Shake bottle well. Add 20 drops of Zeotrex® to 2 ounces of distilled or purified water (not "Super Water") and drink first thing in the morning on an empty stomach. Repeat the instructions above in the evening 20 minutes before the dinner meal.
Zeotrex® was developed to incorporate state of the art ingredients to assist the body in chemical and toxic metal cleansing. Zeotrex® contains organic zeolites in combination with powerful angstrom-colloid cleansing herbs, mB liquid trace minerals and Nano-colloidal Iodine.
Most chemical and toxic metal cleansers on the market today either contain liquid zeolites or a combination of herbs. Global Healing Center is the first company in the world to produce a formula combining both zeolites and organic herbs in one easy to take formula.
Dr. Group's Detox Foot Pads® (Apply every night for 30 days)
Application Instructions: Apply one Detox Foot Pad to the sole of each foot before bed, every night of the 30 days cleanse process. Detox Foot Pads contain powerful herbs and other natural substances that work gently while you sleep. They generate warmth as they stimulate the meridians and acupuncture points on your feet. Stimulating the acupuncture points helps to direct energy to your body's systems and organs that have been weakened by diseases and chronic exposure to toxic chemicals and toxic metals.
In the morning, you'll see the results of the toxins that were drawn from you body while you slept. Simply peel off the foot pads to see that they're no longer white but dark brown, yellow, or gray in color, and hard and damp with the toxins they've collected. After several nightly applications, depending on your body, you may see that when you remove the pads, they're not so squishy and discolored; this is a clear indication that your toxin load is being reduced.
The results are dependent upon several things including, the strength of your immune system, the efficiency of your elimination systems, as well as your toxin load. Typically, the clearer and drier are your foot pads in the mornings, then the nearer you are to the close of the 30-day cleansing cycle.
Even though fully cleansing your body can take as long as 12 months, you may notice health improvements within days of beginning the first 30-day cycle.
Maintenance Serving for the Chemical & Toxic Metal Cleanse
Using a regular maintenance serving of these products helps keep the body cleansed of chemical and toxic metal buildup. And, you can reduce the need for maintenance serving by following my suggested diet and by eliminating the sources of chemical and toxic metal toxins from your environment with my "Green Living" Cleanse.
The maintenance serving below can be taken indefinitely without becoming habit forming or harmful to your body.
Zeotrex® - Every 3 days take Zeotrex® in the morning and in the evening. Add 20 drops of Zeotrex® to 2 ounces of distilled or purified water (not "Super Water") and drink first thing in the morning on an empty stomach. In the evenings, take the same serving 20 minutes before the dinner meal. In 3 days, repeat the servings morning and evening.
Detox Foot Pads - Apply pads once a week to the soles of the feet before bed for weekly cleansing that can prevent the accumulation of toxic chemicals and toxic metals.
What Should I Drink During the Chemical & Toxic Metal Cleanse?
Your best results will come with drinking Dr. Group's "Super Water". Calculate half your body weight; drink that amount in ounces of Super Water" every day of the cleansing process.
Example: If you weigh 150 pounds you should drink 75 ounces of "Super Water" daily. Drink this water after you cleanse on a regular basis to maintain overall health.
How to Make Dr. Group's Toxin-Free "Super Water"
Prepare one gallon of purified water, preferably kept in a glass bottle. Pour out some so that you can add the ingredients below. You can add water back in to suit your taste.
Add 3 tablespoons of raw non-pasteurized organic apple cider vinegar to the gallon of water. Shake well. If the taste is too strong for you to handle, reduce to 2 tablespoons per gallon until you become accustomed to the taste.
Optional: Add the juice of ½ organic lemon and 1-2 ounces Organic Aloe Vera Juice per gallon of "Super Water". This is not necessary but will improve your cleansing results.